News from 1942.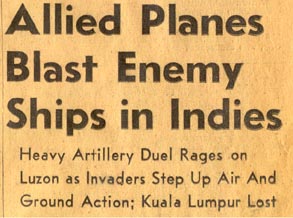 By EDWIN B. OLWIN
Foreign News Editor

A ferocious Japanese tank assault has forced the British to fall back more than 35 miles on the west coast of the Malay peninsula, it was announced in Singapore today.

Kuala Lumpur, capitalof Selangor Province, and the important harbor of Port Swettenham, presumably have been abandoned to the enemy, although the communique did not specifically say so. Both are well above the new defense line.

The Dutch are fighting desperately—and giving a little ground—against Japanese invading forces that have landed on the important oil Island of Tarakan and at three places on Celebes island.
---
To Page Nine.